LipoMelt Body Contouring and Weight Loss Plan
Sustain Weight Loss by Body Contouring!
LipoMelt Body Sculpting with Light Therapy
Video:   https://www.longevitysciences.net/videos-2/

How It Works
Body Contouring for ReShape Sculpting and weight loss is know as LipoMelt! Low Level Light, using 635nm technology, started in the late 1990's.  A Colombian physician discovered that exposing patients to mid-600nm light prior to liposuction surgery made the procedure much easier to perform. Patients were exposed to mid-600mn light and underwent liposuction surgery immediately afterward.  This made the fat much easier to extract. Fat had been melted while still in their bodies. 100% noninvasive! No one experienced discomfort. Weight loss results.
Low Level Light Stimulate ATP in Our Cells
Low-level lasers stimulate the body's light-sensitive components to produce an effect similar to photosynthesis in plants — the cells' mitochondria are stimulated, encouraging the cell to produce more ATP naturally.
The Early Conclusion
Then a clinical study was performed that involved fat cells from 12 subjects being exposed to 635nm light energy. 6 minutes of exposure and 99% of the cell contents were released through the cell membrane walls. It was determined the light initiated a photo-bio-stimulation of the mitochondria that caused a reaction within the Lipo Membrane. This created what are referred to as "draining pores" in the cell membrane. These openings then release the contents of the Lipo Cell Membrane. Hence, the start to weight loss! The technology of Body Contouring moves forward!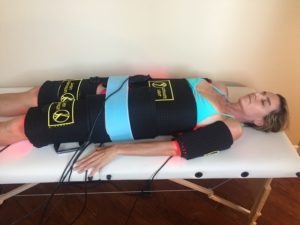 More Studies – More Results
Additional clinical studies have proven that this release of the membrane contents causes the patient to experience Size Reduction! Arms, Tummy, Hips and Thighs. One study involved 86 patients who experienced an average 3 inch reduction total, over the above mentioned body areas.
Further, another study involving 689 patients lost an average of 5 inches. The 635nm device used in these studies delivered a very low level of light energy. This study used a low powered light source. The theory at that time was to have this device 2- 4" away from the skin surface. Noted also, the device was a rotating beam of light. Light particles scatter. Thus, very little light energy reached the fat cells under the skin. As a result, LipoMelt has put 1000's of light microchip driven Light in Blanket wraps. These wraps are directly on the skin for GREAT RESULTS!   The journey to sustained weight loss, using body contouring! Look no further! Keep Reading!
Neither Massage nor Vibration Plate in these Studies
Additionally, the test subjects were not involved in any additional steps to assist fat drainage to the liver. Results from studies above were from the use of light only!
Based on these facts, the 635nm technology does have the desired LipoMelt effect on the fat cells. Treatment results exceed expectations when the full protocol is utilized. (Massage, Waist Trimmer Belt, Vibration Plate, Some Exercise)
Photon Energy
When the mitochondria of the fat cells are stimulated by the 635nm light energy, the membrane drains. This is referred to as "photo-bio-stimulation", or "Photon Energy". This energy Signals the Lipo membrane to start draining. These contents are triglycerides; fatty acids, glycerol and water. This is the body contouring technology and the science behind permanent weight loss.
At this point, the fat cell deflates much like a balloon that is emptied of its air volume. The triglycerides are deposited in the interstitial region of the body as a temporary holding vessel. This is where the protocol becomes important. When a patient's body is properly prepared, fatty acids in the interstitial region will be carried to the liver. The liver may convert these to body energy or release contents to the kidneys. Weight loss is improved with our kidneys and liver in a healthy state. Body Contouring is a slimmer you!
For Best Results….Find the Best Tasting Water Here
Drinking sufficient amounts of water can be challenging but necessary! Some form of exercise immediately after exposure to the light blanket wraps. This will bring amazing results. Our office Vibration Plate or taking the stairway stimulate the lymphatic system. Hence, the start of the Fat elimination process, and LipoMelt!
After this flush of the excess fatty acids, the treated area of their body will become reduced in circumference. Thus, the Phrases like LipoMelt, ReShape and body contouring.
Moreover, being on a healthy "calorie neutral" diet is essential. 4 weeks of low Starches, Sugar, Chemicals and Alcohol equals "Best Results". Likewise, by refraining from eating two hours before and after the Treatment, the drained Lipo will rapidly process and eliminated. Thus, real weight loss can be achieved!
Metagenics Supplements
The client is sent home with Metagenics – Nutridyn  Supplements that assists the Lymph and liver in this elimination process.  A Lifestyle that creates stress on the liver will obstruct this process. Therefore, consumption of alcohol is not recommended during treatment!
In addition, along with Planned Meals following Paleo/Keto type Receipts, we a "Cravings Control" program to over-come mid-afternoon crashes, or evening cravings for starch, sugar or Alcohol. These all trigger the "dopamine high" that all of us need. It's just completing the cycle in a healthy fashion.  High Tech low calorie, high protein Chicken Soup, Protein Bars, High Tech Protein Shake, Fruits & Greens packets, Cocoa Mojo, Matcha Tea, Keto Soup, MCT oil, Dynamic Health Drink and Organo Organic coffee are all discussed in your Evaluation Options.
Body Contouring Cost is $100 per Treatment Session.
Longevity Sciences of Edina, offers this latest LipoMelt Reshape system, with 6 blanket wraps to cover 12 areas of the body during one, 25 minute session. Additionally, for most body types, a "Light Facial" is available at the same time. The face mask not only drains fat cells on chin and neck, without losing facial fullness, but also rejuvenates skin collagen, and decreases some lines and wrinkles.
Call Us for a FREE Consultation or email us from our Longevity website!
www.longevitysciences.net    O 763-259-3737  C 612-703-4822
Office in Edina, MN
Sources:
http://www.meltthatfataway.com/the-science
$35 charge: 24 Hr. or less, Cancellation No-Show Fee and Loss of that Day's Session