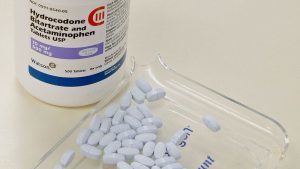 Read also, Cold Laser – Cell Regeneration Article, pain reduction in the blog list here at LongevitySciences.net
For all their risks, opioids had no pain-relieving advantage in a yearlong clinical trial!
New Study Published by the AMA – JAMA Journal
Although opioid medications have been go-to drugs for treating certain kinds of chronic pain, they performed no better than other kinds of painkillers in a yearlong clinical trial.
For years, doctors turned to opioid painkillers as a first-line treatment for chronic back pain and aches in the joints. Even as the dangers of addiction and overdoses became more clear, the drugs' pain-relieving benefits were still thought to justify their risks.
Now researchers have hard data that challenges this view. FDA cleared Low Level Cold Laser Treatment for back and joint pain, inflammation is discussed at LongevitySciences.net
In the first randomized clinical trial to make a head-to-head comparison between opioids and other kinds of pain medications, patients who took opioids fared no better over the long term than patients who used safer alternatives.
"There was no significant difference in pain-related function between the 2 groups over 12 months," researchers reported Tuesday in the Journal of the American Medical Assn.
By some measures, the people using non-opioid drugs such as Tylenol, ibuprofen and lidocaine experienced more pain relief than people using medications like morphine, Vicodin and oxycodone — though the differences weren't large enough to be considered statistically significant. Patients in both groups saw similar improvements in their quality of life.
The findings cast doubt on the medical community's "standard approach" of using opioids to manage chronic muscle-skeletal pain, the researchers found. Low Level Lasers have 510K FDA approvals for Muscle-skeletal inflammation and pain.
"Overall, opioids did not demonstrate any advantage over non-opioid medications that could potentially outweigh their greater risk of harms," wrote the team led by Dr. Erin Krebs of the Minneapolis Veterans Affairs Health Care System's Center for Chronic Disease Outcomes Research.
Krebs and her co-authors said the impetus for their clinical trial was the escalating opioid crisis, which now claims about 115 American lives each day, according to the Centers for Disease Control and Prevention. The number of overdose deaths linked to prescription drugs like oxycodone and hydrocodone has increased by a factor of four since 1999, the CDC says.
The trial — Strategies for Prescribing Analgesics Comparative Effectiveness, or SPACE — enrolled patients who were treated by the Minneapolis VA. All of the patients had pain in their backs, hips or knees for at least six months, and that pain was bad enough to interfere with their daily activities and enjoyment of life.
A total of 240 patients were randomly assigned to either the opioid or non-opioid group. About two-thirds of them had back pain, and the rest had osteoarthritis pain in their knees and hips. The average age of these patients was 58; 87% were men and 86% were white.
All patients started with lower levels of pain medications and were able to "step up" their treatment as necessary. First-line medications for the opioid group included morphine and oxycodone; patients in the non-opioid group started out with acetaminophen and NSAIDs, a group that includes aspirin and ibuprofen.
After a year of pain treatment, the researchers saw no evidence that opioids were better than the alternatives.
Using a scale that rated pain severity from 0 to 10, patients in the opioid group reported an average score of 4.0 and patients in the non-opioid group had an average score of 3.5. Over the course of a year, 41% of those taking opioids saw at least a 30% improvement in their pain severity, as did 54% of those who weren't on opioids.
Measures of how pain interfered with things like work, sleep, mood and general enjoyment of life were nearly identical in both groups. On a scale of 0 to 10, the average score was 3.4 for those on opioids and 3.3 for those who weren't. After 12 months, 59% of those in the opioid group and 61% of those in the non-opioid group reported an improvement of at least 30%.
Other measures of health-related quality of life — including general fatigue, headaches, symptoms of depression and sexual function — were not significantly different between the two groups of patients. The one exception was anxiety, which improved more for those taking opioids.
Patients in the opioid group had significantly more trouble with medication-related symptoms. However, hospitalizations and emergency room visits to deal with pain medications were similar in both groups, as were rates of drug misuse.
The study authors cautioned that these results might not apply to pain patients in general, since VA patients aren't representative of the country as a whole.
However, the findings should prompt doctors to reconsider the use of opioids as a first-line treatment for chronic muscle-skeletal pain, they wrote.
"Treatment with opioids compared with non-opioid medications did not result in significantly better pain-related function over 12 months," Krebs and her colleagues concluded. "Results do not support initiation of opioid therapy for moderate to severe chronic back pain or hip or knee osteoarthritis pain."
The study was funded by the Department of Veterans Affairs.
Contact Longevity Sciences for "Pain Reduction Strategy's"and Fat Cell Drainage

"Cold Laser LipoMelt Body Contouring"

Sources:
http://www.bendbulletin.com/health/6066285-151/study-for-chronic-pain-opioids-were-no-better
http://www.latimes.com/science/sciencenow/la-sci-sn-opioid-painkillers-no-better-20180306-story.html